About Paulette-Marie Sauvé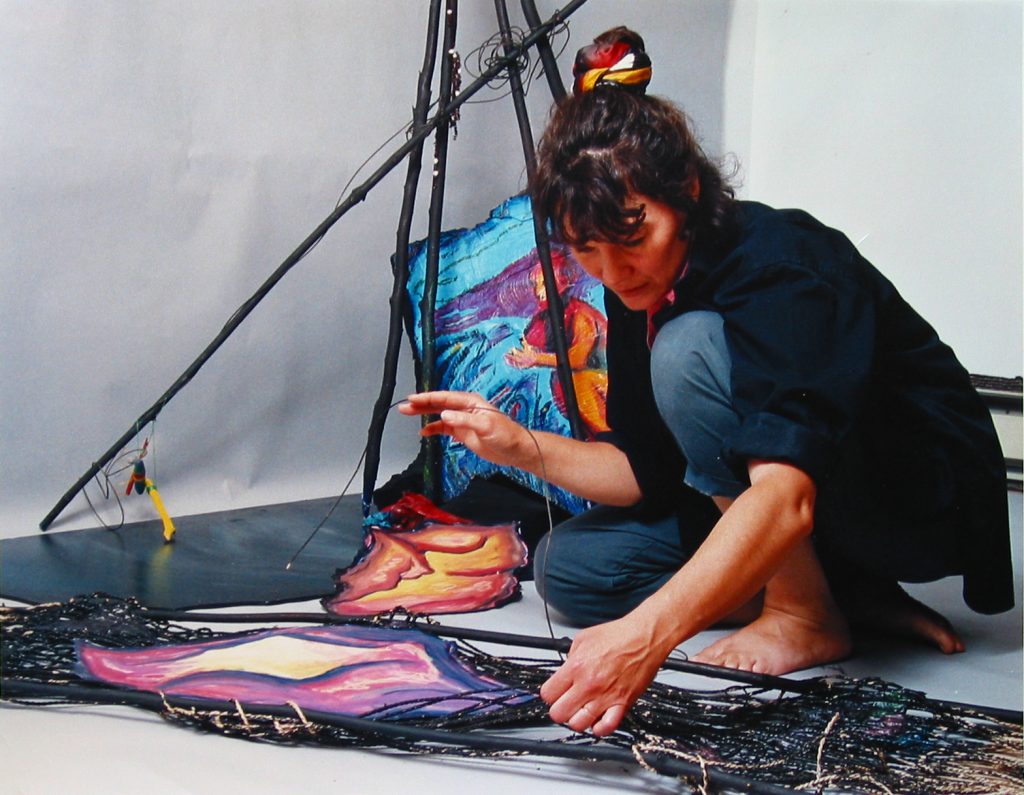 Paulette-Marie Sauvé, m.f.a., painter, tapestry weaver and writer
Sauve obtained her Master of Fine Arts degree in 1992, at the Université du Quebec.
The MFA course included studies in northern Italy.
She studied visual arts in 1974 at the Institut des Arts Appliqués in Montreal, Quebec.
Later, she was awarded a government grant to travel to France where she discovered  ancient dyes, and tapestry, notably at the Manufacture des Gobelins.
This inspired her to write two books about the art of creating with natural dyes and fibers.
In 1978, 1979 and 1984 her work was shown at the Museum of Contemporary Art of Montreal.
She exhibits her work and gives seminars, lectures and workshops in several countries.
She creates commissioned paintings, and her work is found in private and corporate collections.
Grants and awards: in 2002, she received Her Majesty Queen Elizabeth II 50th Golden Jubilee Medal awarded by The Governor General of Canada.
– grants from the Canada Arts Council, and from the Quebec Minister of Cultural Affairs.
Selected Tapestry Commissions: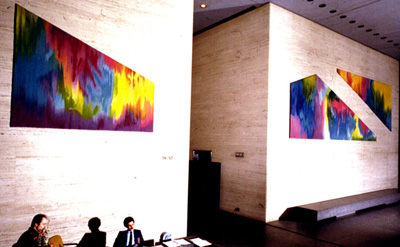 In 1984, Sauve was commissioned to weave a tapestry measuring more than 400 square feet for Cadillac Fairview:
"The Toronto Dominion Centre is made up of six buildings in the financial core of Toronto. The architect of the buildings was Mies Van der Rohe.
Within and around the buildings are a variety of artworks all by Canadian artists.
……. Paulette-Marie Sauve's interpretation of the Canadian landscape is a triptych installed at the Commercial Union Tower."
Quote from the artist:
My background in textile art and my studio called Atelier Artweave:
I have given lectures, seminars and workshops in the USA, Burkina Faso, Canada and in Israel…"
In 1994 (or 1995?) Shelagh Rogers interviewed Paulette Marie Sauve on CBC radio. She asked Paulette to describe her activities of directing a textile museum situated on Montreal South-shore:
"My work in the 1990's involved a complete 360 degree process from producing my own materials to creating textile artwork."
Shelagh Rogers asked Paulette to explain her work of weaving tapestry from wool that came from her husband's sheep, and then spinning wool and also growing linen and ancient dye plants.
Some of my interesting travels:
"In 2005, I attended the 35th anniversary of Shenkar College of Engineering and Design in Ramat-Gan, Israel. I was representing Domestic Converters Inc., the Montreal textile company created by Joshua Ronn.
At Shenkar College, I was invited to give a lecture about my work in textile art, and, was given a tour of the school.
I was most fascinated to meet Professor Zvi C. Koren in the Department of Chemical Engineering, who introduced me to his research in ancient dyes. "
"I was amazed by the beauty of the archeological sites I visited in Jerusalem, and the Bauhaus architecture in Tel Aviv. Back in my studio I made several sketches and paintings about my visit to Israel. I was motivated to study Hebrew, and enrolled in a three year course at Ulpan. I enjoyed having coffee and bagels in downtown Tel Aviv. One of the paintings from this series is called "Tel Aviv Cafe" inspired by a café, situated on Rechov Diezenkoff.
CONTEMPORARY TEXTILE ART
Contemporary art tapestry techniques involve a series of very long processes. Many people ask me how I weave tapestries.
It helps to understand all that is involved in turning a painting, first into areas of weave patterns, then into woven cloth or tapestry.
The weave pattern for Gobelins style tapestry is different than the process used for a multi-shaft loom, a Dobby loom or a Jacquard loom.
I weave with several types of looms using techniques that I will describe here:
https://www.paulettesauve.com/product-category/artweave-tapestry/
Selected and International Exhibitions and Lectures/Expositions et présentations particulières:
2017-2016-2015-2014-2013    The Elaine Fleck Gallery, Toronto, Canada
2011-2010  The Artist Project, Exhibition Place, Toronto, Canada
2010 RedEye Gallery, Distillery District, Toronto, Canada
2010-2011  The Village Gallery, Mississauga
2010-2011  Tay Kanata Gallery, Ottawa, Ontario
2009  Modern Fuel Artist-run Centre, Kingston, Ontario
2008  Gallery ArtPlus, Belleville, Ontario
2008  CAPSQ exhibition in La Forge, Brouage, France
2008  Channing Memorial Steeple Chase, Newport, Rhode Island
2008-2009  Tay River Gallery, Perth, Ontario
2008  Avmor Gallery, Montreal, Canada
2007  The Journey Home Gallery, Narragansett, Rhode Island
2006  Avmor Gallery, Montreal, Canada
2006  The Journey Home Gallery, Narragansett, Rhode Island
2005-2004-2003  Avmor Gallery, Montreal, Canada
2005 Lecture about of my work at Shenkar College of Design & Engineering, Ramat Gan, Israel
2005  The Journey Home Gallery, East Greenwich, Rhode Island
1989 "Illudere ou se jouer du trompe-l′oeil", Centro internazionale di sperimentazioni artistiche
Marie-Louise Jeanneret,
Boissano (Italie) , Italy
1989 "Illudere ou se jouer du trompe-l′oeil", Galerie de l′UQAM, Montréal
Corporate & Museum collections, Installations, Commissioned work/Collections de musées, corporations:
Cadillac Fairview, Toronto, Canada; Musée d'art et artisans de Saint-Laurent, Montreal; Teleglobe Canada; Le Ministère des Travaux Publics du Québec; The Avmor Collection, Montreal; Le Ministère des Affaires Sociales du Québec; Galerie Samuel Lallouz,Montreal; COPAFO, Burkina Faso, West Africa; Le Musée des Baleiniers basques, Red Bay, Labrador, Canada.
Books, CD-ROMs, Magazines, & Articles written by P-M Sauvé/Livres, CD-ROMs, revues et articles écrits par P-M Sauvé: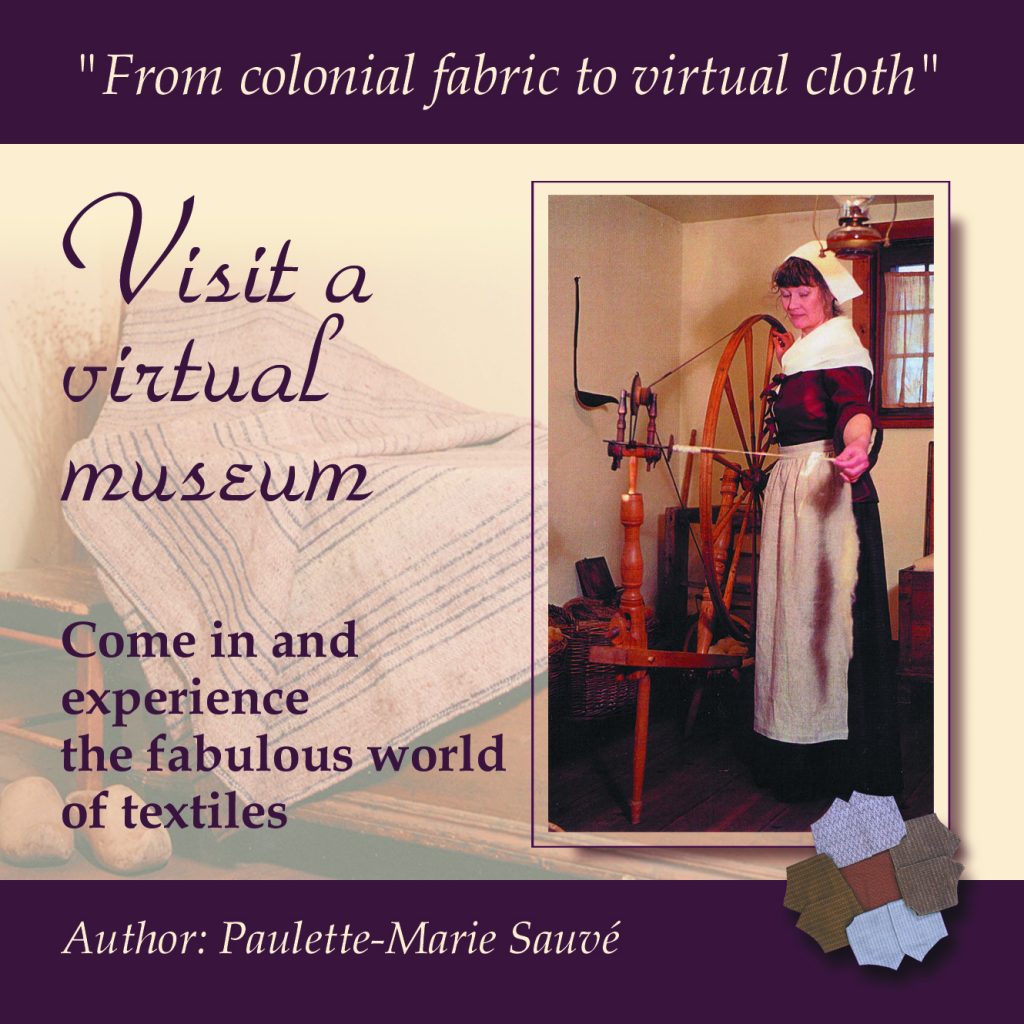 1 – From Colonial Fabric to Virtual Cloth, CD-ROM author: Paulette-Marie Sauvé, Published by Tournade, 2001, ISBN: 0-9688935-0-3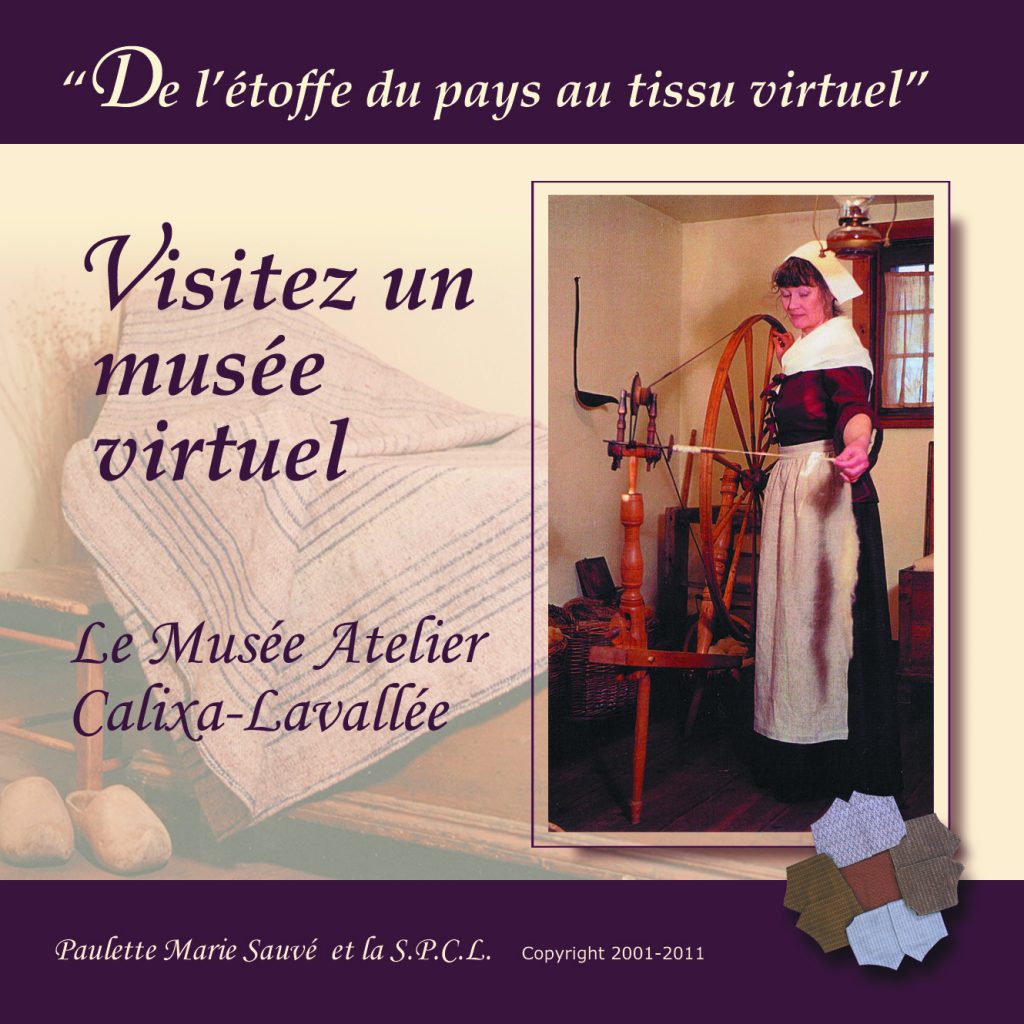 2 – De l'étoffe du pays au tissu virtuel: Visitez un musée virtuel sur CD-ROM, author: Paulette-Marie Sauvé, Published by the SPCL,
Bibliotheque nationale du Quebec, 2001 ISBN:2-9807162-0-0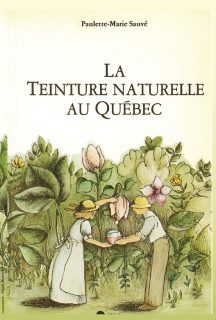 3 – La Teinture Naturelle au Québec, by Paulette-Marie Sauvé, Éd. De L'Aurore, Montréal, 1977. ISBN :0-88532-164-2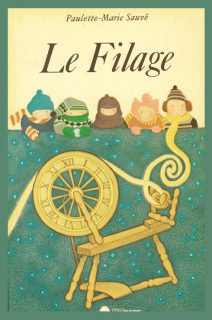 4 – Le Filage, by Paulette-Marie Sauvé, Éd. De L'Aurore, Montréal, 1977. ISBN :0-88532-139-1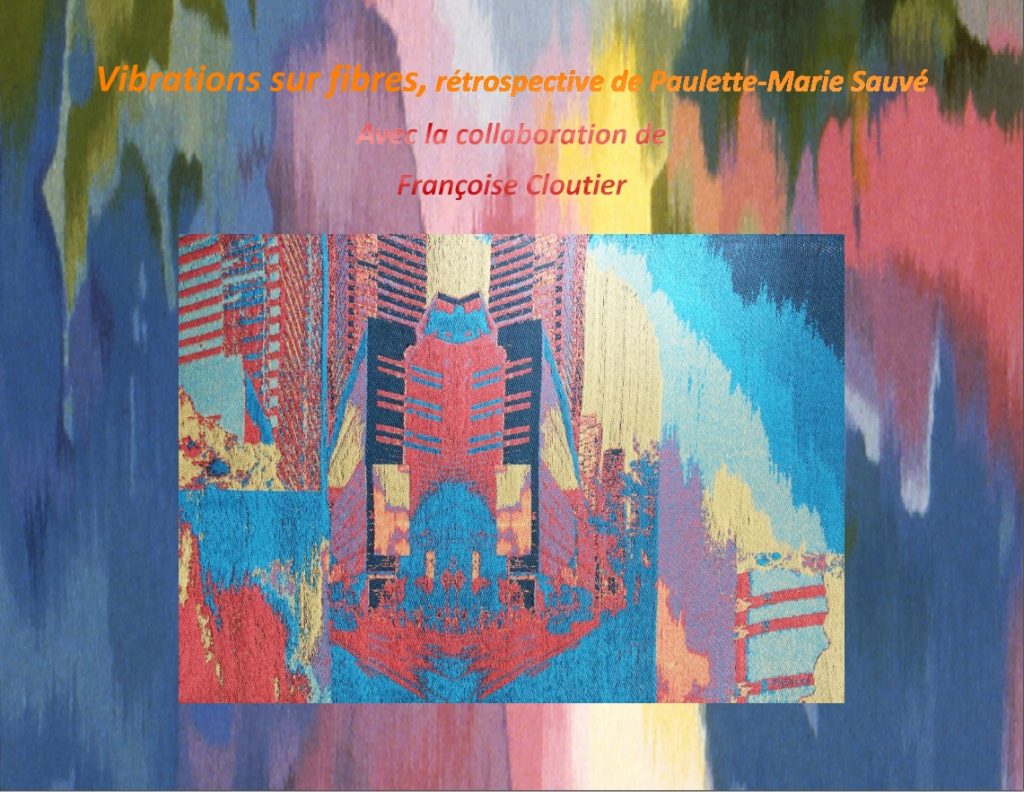 5 – La version française, voir mon livre "Vibrations sur fibres, une rétrospective" :Publié et distribué par Paulette-Marie Sauvé, ISBN:978-0-9688935-1-7
LINK TO THE PAGE TO PURCHASE MY BOOKS :
https://www.paulettesauve.com/product-category/books-documentaries-livres-documents-publies/
Articles written by Sauvé in magazines:
1 – "Quatre-Temps", by Les Amis du Jardin Botanique de Montréal, P M Sauvé, co-author, Vol. 19, #2, pgs 47 to 50,
Ed. Jardin Botanique de Montréal, 1993, ISSN 0820-5515
2 – "COLOR Research and application, vol. 6 #3, Fall 1981, Co-author by Paulette-Marie Sauvé, pages 172-173, ISSN 0361-2317
3 – "Annales de l'ACFAS, Vol. 45, #4, Centre Québécois de la Couleur, 1978", co-author by Paulette-Marie Sauvé, pages 39 to 43, Québec, 1978
Media and press coverage/Articles de presse:
2017, 2016, 2015, 2014 – Fleck Fine Art Catalogue, fall-winter, and spring-summer
2013 and 2012 – Elaine Fleck's Catalog of Contemporary Fine Art, fall-winter, and spring-summer
2005 – 2016 Media, newspapers, gallery shows, magazine articles, and various art events
2004 – The Avmor Collection, published by Avmor Art and Cultural Foundation, Montreal, 2004;
pgs 151, 203 and 209, ISBN 0-9682946-2-6
1994 – "Paulette-Marie Sauvé", Les arts contemporains au Québec/Contemporary Arts in Quebec, pg 75, by Maurice Soudeyns, Montréal,
Société générale d'édition, 1994, ISBN 2-921228-04-1
1992 -"Paulette-Marie Sauvé, Galerie de l'UQAM", by Etc Montreal, pg 70, Numéro 18, Printemps 1992, ISSN 0835-7641
1990 – "Paulette Sauvé", Illudere ou se jouer du trompe-l′oeil, pg 29, by Pierre Ayot, ÉDITIONS NBJ,
1990, ISBN 2-89314-101-3
1980 – Les Oeuvres d'art du ministère des Travaux publics et de l'Approvisionnement,Editeur Officiel du Québec, Gouv. du Québec,1980, ISBN 2-551-04022-1
1984 – Troisième Biennale de tapisserie de Montréal, Canadian Cultural Centre, Paris, 1984, ISBN: 2-920673-00-9
1978 – La Nouvelle tapisserie québécoise, by Musée d'art contemporain, Montreal, Ministère des Affaires culturelles,1978, ISBN 0-7754-3031-5
1979 – Biennale de la nouvelle tapisserie québécoise, by Musée d'art contemporain, Montreal, Ministère des Affaires culturelles,1979, ISBN 2-551-03401-9
2005 – The Art Guide, 2005, The Monthly Review of Exhibitions at Galleries and Museums in New England.
1975- Guy Boulizon, Lecture at the Montreal Museum of Contemporary Art, and publications Les musées du Québec» – (1975), «Le paysage dans la peinture au Québec»  – (1984)
1975- Cyril Simard, «Artisanat québécois -1. Les bois et les textiles»,
Montréal : Éditions de l'Homme, c1975 -c1985.
1989 – Réquisition Clandestine, Bulletin-Catalogue, Printemps 1989, Ed. CATQ, Montréal
1992 – En ce temps-là, by Jean Dumont, Le Devoir, samedi 14 mars, 1992, pg C-11
2007 – Fibre Quarterly volume 3 issue 1 winter 2007, Who made that: a question about Public (Textile) Art in Canada?, Fibre Quarterly ISSN-1916-534X Canada
1987 – ART – THE GAZETTE, Montreal, Saturday, June 13, 1987
2012-2013-2014-2015-2016 Artist published in the Larousse Dictionary of Artists/Cotation Drouot:
http://paulettesauve.artistes-cotes.com/
http://paulettesauve.guidarts.com/
Other media events: several radio interviews and television appearances, numerous newspaper and magazine articles, mentioned on various Web sites since 1997.
TEACHING & CULTURAL ACTIVITIES:
Paulette Marie Sauve gives workshops in visual art and has organized several exhibitions and cultural events.
Her studio activities include, painting in oil and mixed media, weaving tapestry, writing articles and books.
Paulette has published two books in French: "La Teinture Naturelle", and, "Le Filage", as well as two CD-ROMs about the history of textile art in New England and New France.
She is a trained volunteer tutor for English Literacy, and a member of the South Shore Reading Council.
Curatorial Work/Travail de curateur:
1992-2004 Director of the  Musée-Atelier Calixa-Lavallée, Calixa-Lavallée, QC, J0L 1A0
Interesting Mentors
From 1973 to 1975, I studied Visual Arts at the Institut des Arts Appliques in Montreal.
I created paintings, woven fabric and tapestries, and learned to spin many types of fibres.
In 1974, the Government of Quebec sponsored a one month visit of weaving and tapestry studios in France.
Our group of about 20 students met with several weavers, some of whom exhibited at the Tapestry Biennale in Lausanne, Switzerland.
One of the most impressive meetings was with Jean Dufour, head of the Gobelins Tapestry Dyes department.
He brought us through the 15th century old Savonnerie section of the building, filled with different colored skeins of wool in old stone dye-baths, and hanging from the wooden ceiling beams to dry.
Move to the Country
On my return home, my husband brought me to see a country home with a big barn on a farm that he was looking at on the south shore of Montreal. He knew that I needed a studio with a high ceiling to be able to install a huge Gobelins style tapestry loom.
Claude and I had met in college in Montreal where he was born. We both wanted to leave the city and live in the country. We moved onto a farm near Montreal. We were married a year later. We purchased a few sheep, goats, rabbits, chickens, ducks and the barn was filled to capacity with animals.
(see photos below)
So I found another abandoned barn nearby, renovated it, and moved in with my painting and weaving equipement.
Claude, who is a fabulous woodworker and builder of antique furniture, learned how to renovate our 250 year old house. (see photo above)
He gradually became interested in closing his business in Montreal to become a sheep breeder. He raised Suffolk and Dorset sheep to make a good pure-bred flock. (see photo above)
He also made antique furniture for our house, the photo below shows his bath towel cupboard built in 2016.
Reasearch in Textile Arts
In 1976, I studied industrial textile weaving at the Institute of Textile Technology in Saint-Hyacinthe, Quebec.
From 1975 to 1977 I visited the elders in the village to listen to their childhood memories, and ask them about spinning wool and linen.  Then I wrote all that I had learned about ancient dyes and spinning fibres. (see photo below)
In 1977, I published two books in French:
"La Teinture Naturelle", about ancient dyes
"Le Filage", about spinning all types of fibres.
My Textile Art Work
See more about my tapestry weaving experience here:
http://www.paulettesauve.com/product-category/artweave-tapestry/
For more information please contact Paulette:
Email address :paulette@paulettesauve.com
Copyright © 2021 Paulette-Marie Sauvé