Artweave Tapestry/L'Atelier Artweave
Artweave Tapestry/L'Atelier Artweave
Lien à la version française:
https://www.paulettesauve.com/biographie/
My background in textile art and my studio called Atelier Artweave:
Contemporary art tapestry techniques involve a series of very long processes.  Many people ask me how I weave tapestries.  It helps to understand all that is involved in turning a painting, first into areas of weave patterns, then into woven cloth or tapestry.  The weave pattern for Gobelins style tapestry is different than the process used for a multi-shaft loom or a Dobby loom.   I weave with several types of looms using techniques that I will describe here.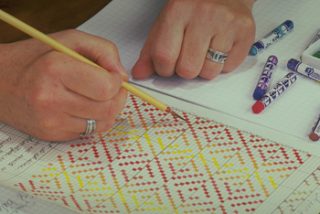 My much admired teachers who taught different techniques:
I am very grateful to Soeur Cecile Auger of the Congregation of Nuns of Notre-Dame de Bonsecours in Montreal, who, in the 1970s, taught me how to read hundreds of weave patterns, and showed me the joys of creating my own weaving drafts, selecting colours of yarns, winding warp threads on the warping reel, threading hundreds of heddles, and weaving my cloth on the loom.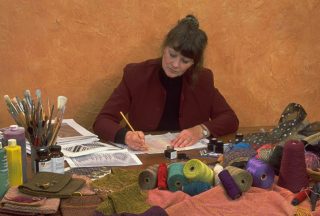 I studied Industrial Weaving from Institut des textiles, Cégep de Saint-Hyacinthe, in 1974, a course taught by Gaby Dion.
His course illustrated how industrial cloth is made and how to identify countless weave patterns.
He published an important document :
"Les textiles de base et l'identification des tissus", Gaby Dion, Institut des textiles, Cégep de Saint-Hyacinthe, c1974.
Since the early 1970s, I have studied art techniques in weaving as well as painting, silkscreen, sculpture, ancient dyes, photography and computer weaving programs. Thank you to Jean Dufour, who in 1974 was the Master Dyer (Teinturier) at the Manufacture des tapisseries Gobelins in Paris, France. He taught me how to dye yarns with ancient dyes. I prepared my own dyes for many of the tapestries that I wove.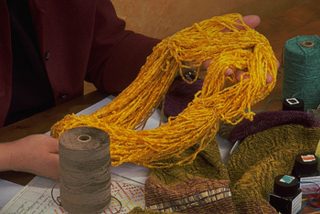 When creating paintings, I find inspiration in colourful landscapes that change into fabulous shades every hour and every season.
When using a multi shaft loom, I make a scaled painting called a "maquette"using some of my favourite landscapes with 3 or 4 colour areas.  The maquette is given a weave pattern which is then woven on the loom.  In the photo seen below, I used the weave pattern called "Summer and Winter" to make a large wool tapestry 62 inches high by 107 inches wide.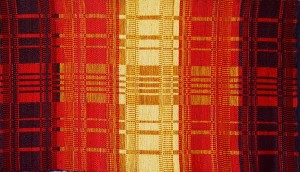 In 1978 and 1979, I exhibited textile art at the Museum of Contemporary Art of Montreal.  From 1980 to 1989, I participated in the Biennale de Tapisserie de Montreal.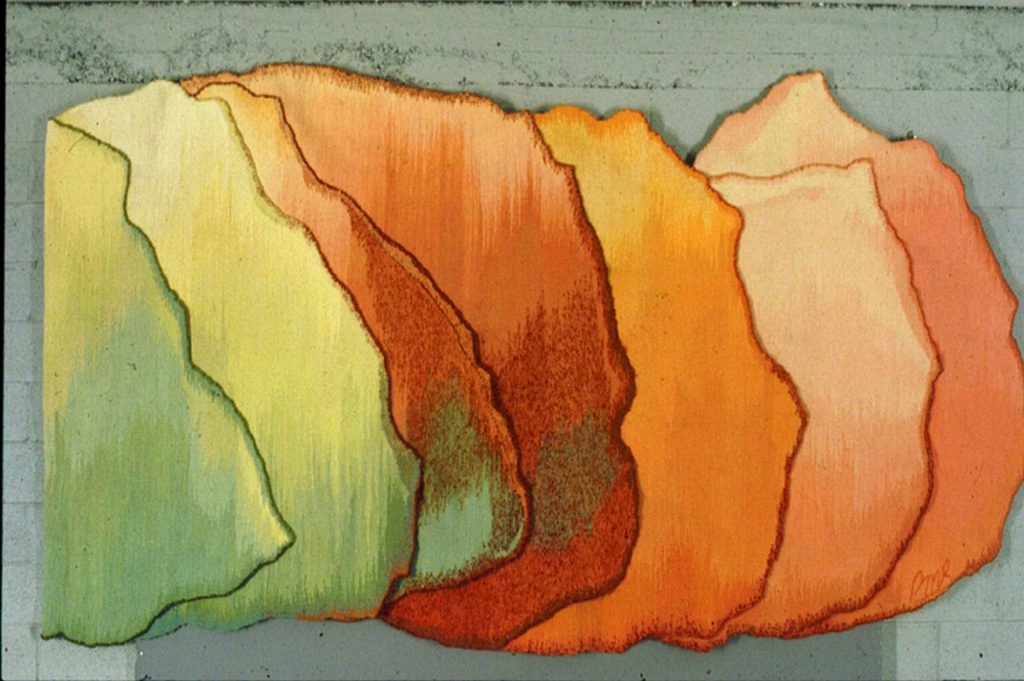 In 1983 I exhibited the tapestry called "Mutation" (photo seen above), 6 feet high by 11 feet wide, hand-dyed wool weft on a cotton warp.  For the next three years, this was in travelling exhibitions to museums in France, Norway, Africa, England, and the Canadian Embassy in Madrid, Spain. (see photo below)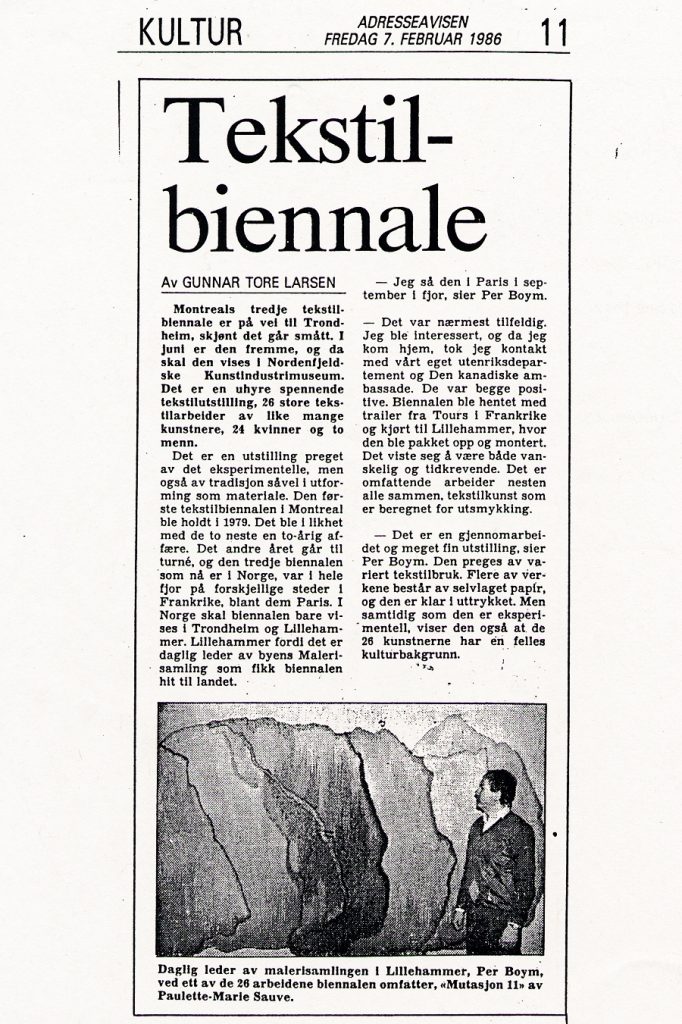 Thank you to Lucien Desmarais, teacher and president of the Biennale de Tapisserie de Montreal in the 1980s. He taught me the Gobelins tapestry technique.
Here, the thick weft, usually wool, completely covers the thick cotton warp, resulting in a heavy woven carpet-like tapestry.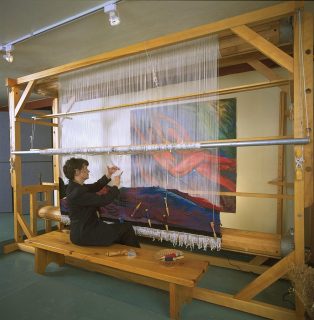 I asked the owner of Nilus Leclerc weaving loom manufacturer to build for me the huge Gobelins style tapestry loom seen in the above photo.
It measures 11 feet wide by seven feet high. This loom can weave tapestry that is up to 10 feet wide and up to about 40 feet long, depending on the size of the yarn used in the warp and the weft.
In 1984, I was commissioned to weave a tapestry measuring more than 400 square feet for Cadillac Fairview.  On their website the work is described:
"The Toronto Dominion Centre is made up of six buildings in the financial core of Toronto. The architect of the buildings was Mies Van der Rohe.  Within and around the buildings are a variety of artworks all by Canadian artists. ……….
(7th paragraph) ……. Paulette-Marie Sauve's interpretation of the Canadian landscape is a triptych installed at the Commercial Union Tower." I wove this on my Gobelins loom.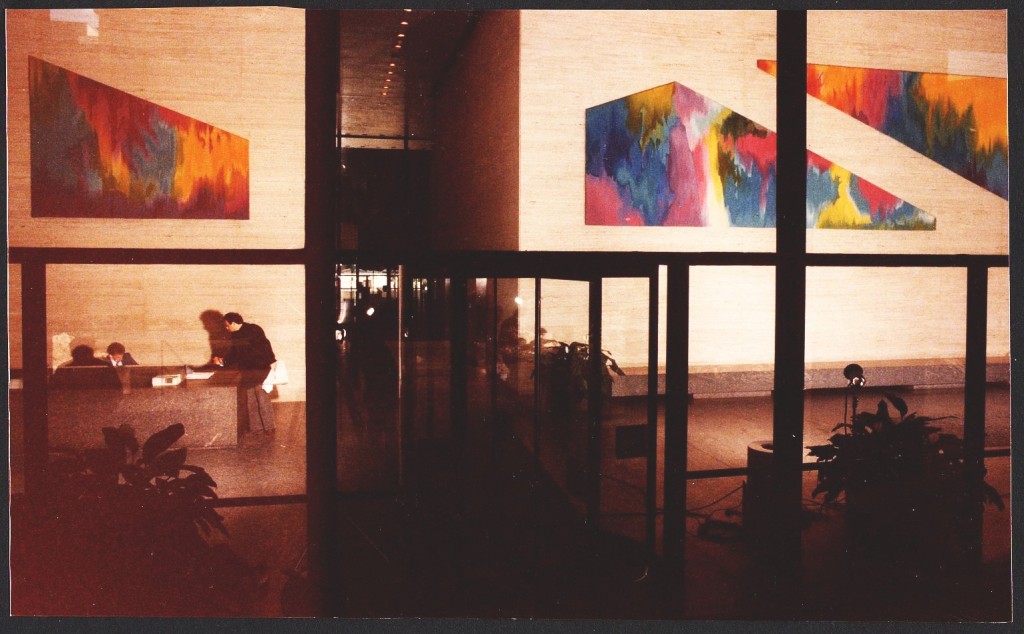 Then in 1986, I met Andree Beaulieu-Green, a graduate of the Massachusetts Institute of Technology.
She taught computer-assisted drawing at the University of Quebec, and after working in her class I purchased a
used Apple IIe computer with two floppy disk drives.
Also in 1986, two art teachers from France introduced me to digital painting with actual paint.
They presented their invention of a computer-driven robot with catheters connected to plasma
bags filled with the three primary colors and airbrushes.
This event took place at "Images du Futur", Cité de l'Image, in Montreal.
I brought them two of my woven wool tapestries and, a floppy disk containing digitized
drawings I had made on my Apple IIe.
They transferred my drawings into their computer and directed the robot to paint them onto my tapestries.
That experience brought me to continue my studies in 1989 at the University of Quebec where I learned to create images with Adobe Photoshop. I used my digital drawings to make Kodalith negatives in the University photography lab, and transferred them to silkscreen frames. I printed these images on cotton.
Photo of "Art Cloth" #009-1992: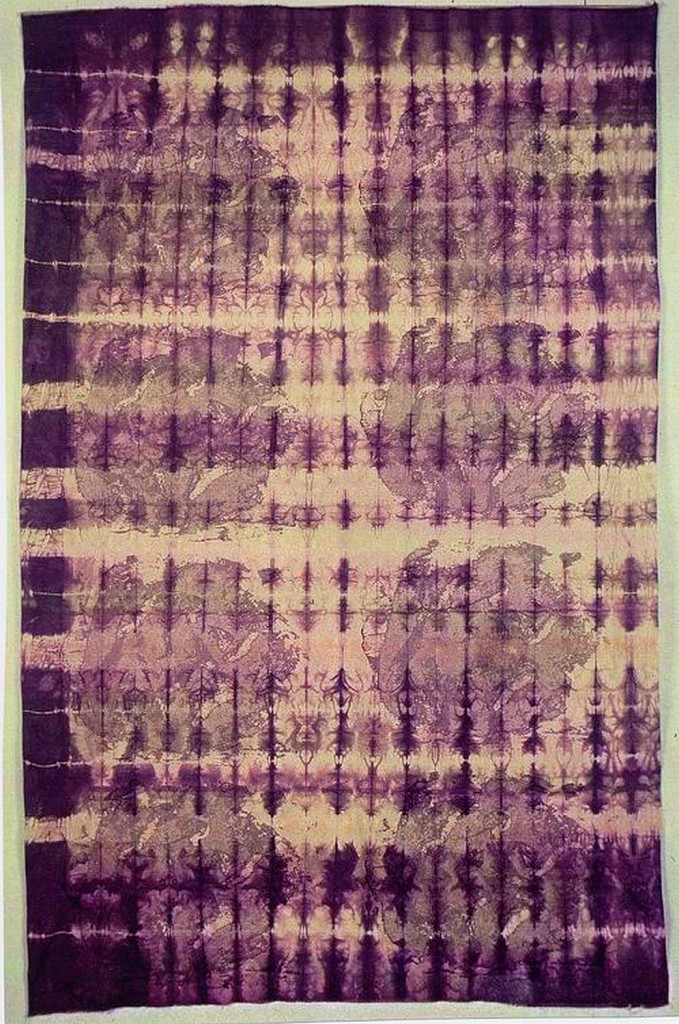 I also printed on cotton canvas and eventually began to cut these canvas into strips in order to weave them into a cotton warp on my loom.
Photo of "Tapestry – Tapisserie – Geste Sacre" #0296:
https://www.paulettesauve.com/product/tapestry-tapisserie-geste-sacre-0296/
I was awarded my Master of Fine Art degree at the Universite du Quebec in 1992.
Also in 1992, I began to direct a small museum where I gave demonstrations of spinning, ancient dye techniques, colonial
weaving and contemporary textile art techniques.  I also developed an interest in multi-shaft and dobby loom weaving and
read many books on the subject.
I studied a course with Ingrid Boesel, a remarkable teacher of weaving techniques since 1967.
Thank you to Ingrid Boesel, and to Bob Keates, creators of Fiberworks PCW, the weaving software that is used to create sophisticated weave patterns with multi-shaft and Dobby looms.   I learned how to use the Fiberworks PCW program to weave many beautiful fabrics on a 16 shaft Dobby loom.   I also studied a French computer weaving program called "Pointcarre" with Louise Lemieux Berube in Montreal.
In 1998 I purchased a 16 shaft AVL loom with mechanical dobby, and the book called "Network Drafting" by Alice Schlein.
Her book not only explained multi-shaft weaving drafts, but provided templates and peg plans for the bars of the mechanical dobby chain.
I was thrilled to learn how to design my own liftplans for the dobby loom.   Soon after, I installed the electronic dobby driver called :Compu-Dobby II.  (See photos below)
Paulette weaving on 16 shaft Compu-Dobby loom :
Then I was commissioned to weave a tapestry for an art collector in Montreal.  He published a book about his art collection and included photos of my tapestry: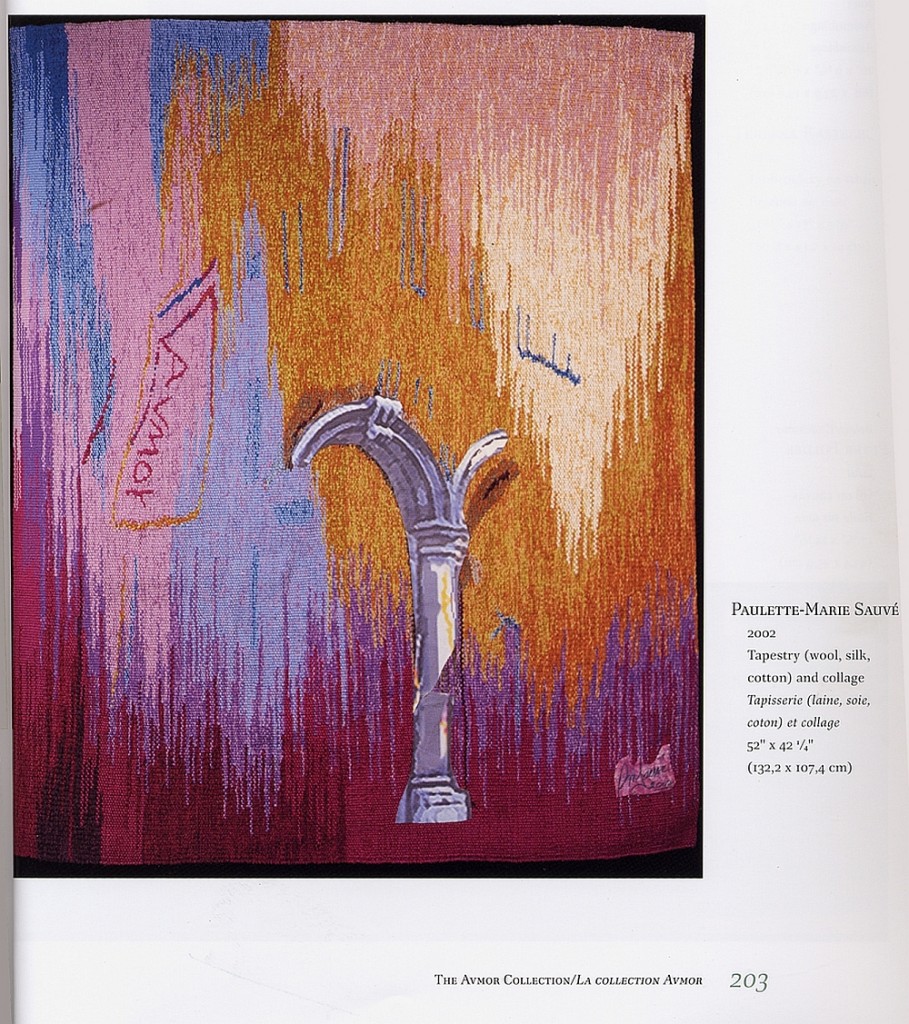 Above is the Tapestry called "Avmor"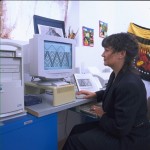 When using a Dobby loom, we must repeat the processes of creating weaving plans and images, selecting the appropriate weave patterns, selecting colours of yarns, winding warp threads on the warping reel, threading hundreds of heddles, winding bobbins on shuttles.
The weaving plan is then put into either a chain of dobby bars, or, into a software program on the computer, to be able to weave it into a tapestry.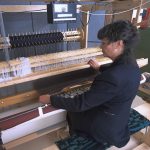 In 2005, I attended the 35th anniversary of Shenkar College of Engineering and Design in Ramat-Gan, Israel. I was representing Domestic Converters Inc., the Montreal textile company founded by Joshua Ronn. At Shenkar College, I gave a lecture about my work in textile art, and, was given a tour of the school. I was most fascinated to meet Professor Zvi C. Koren in the Department of Chemical Engineering, who introduced me to his research in ancient dyes.
In 2015, I read about the fabulous tapestries woven by Bhakti Ziek using a hand operated electronic Jacquard loom called a Thread Controller (TC1) loom, built by Tronrud Engineering in Norway.
This marvelous loom was invented by Vibeke Vestby, an accomplished weaver who travels worldwide to give seminars.
I contacted Bhakti Ziek who lives only a few hours drive from my home.
Bhakti gave me a two day workshop on her TC1 loom.  Her expertise is amazing.   She is a tremendous inspiration.
Soon later, I contacted Vibeke Vestby to ask about the Thread Controller (TC) loom that she invented.
In order to weave with this type of loom, I create a "maquette" which I then transform into 7 or 8 (or more) colour areas.  Each colour is given a weave pattern on the computer, and then inserted into the loom software, to be able to weave it into a tapestry.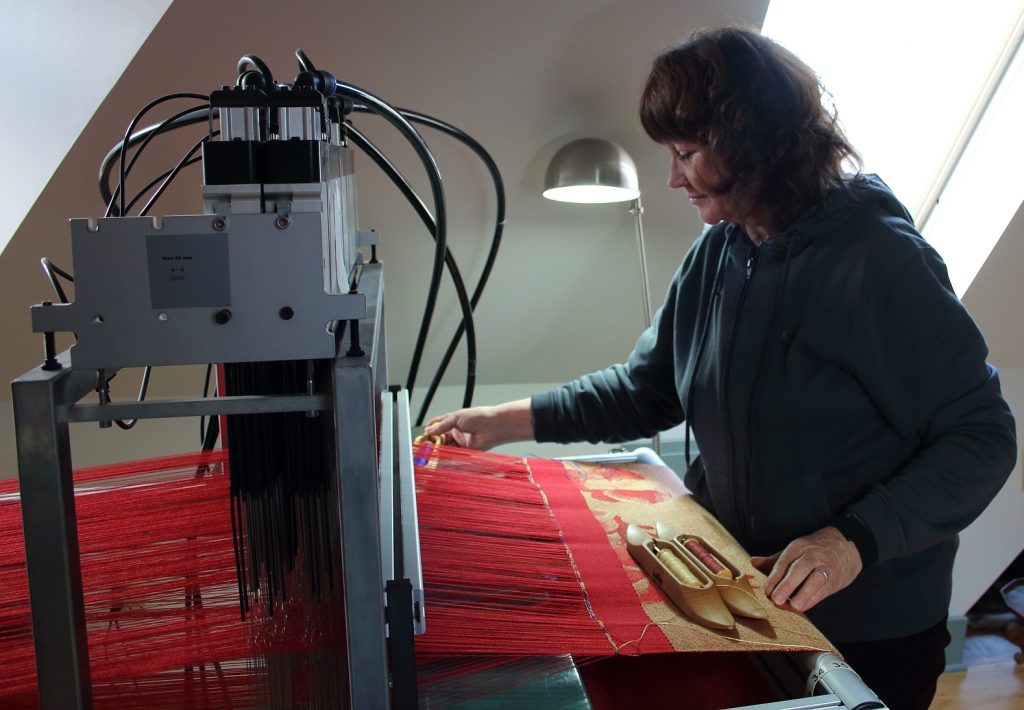 Although the computer allows the loom to weave more detailed images, there is still the long series of processes of creating my own weaving plans and images, selecting the appropriate weave patterns, selecting colours of yarns, winding warp threads on the warping reel, threading hundreds of heddles, winding bobbins on shuttles, and weaving my tapestry on the loom.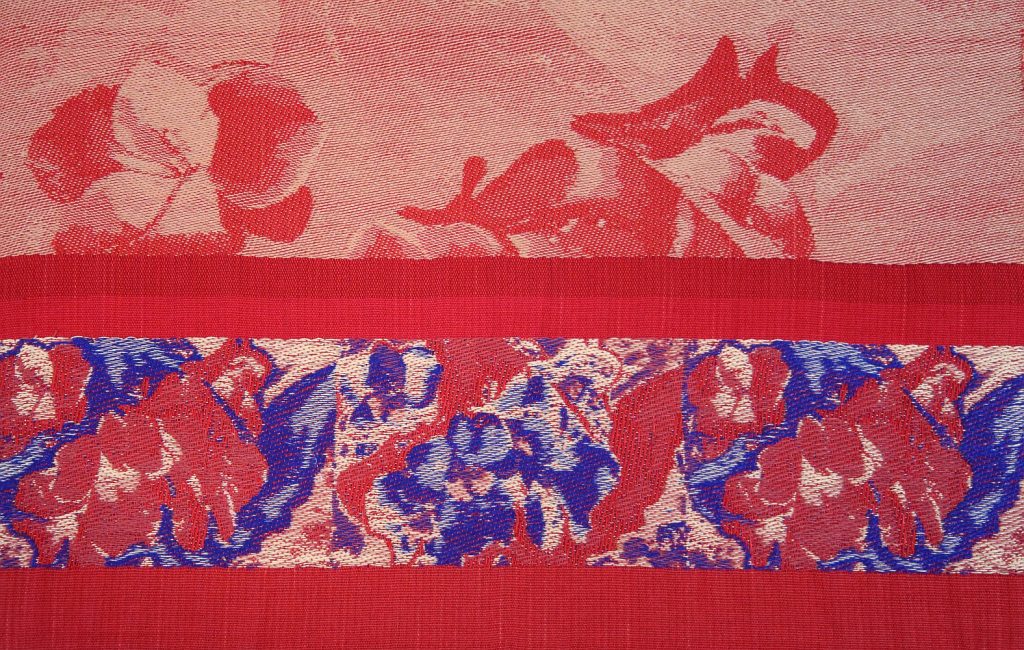 The sample shown below is of a cityscape, for testing what patterns are approriate for the image: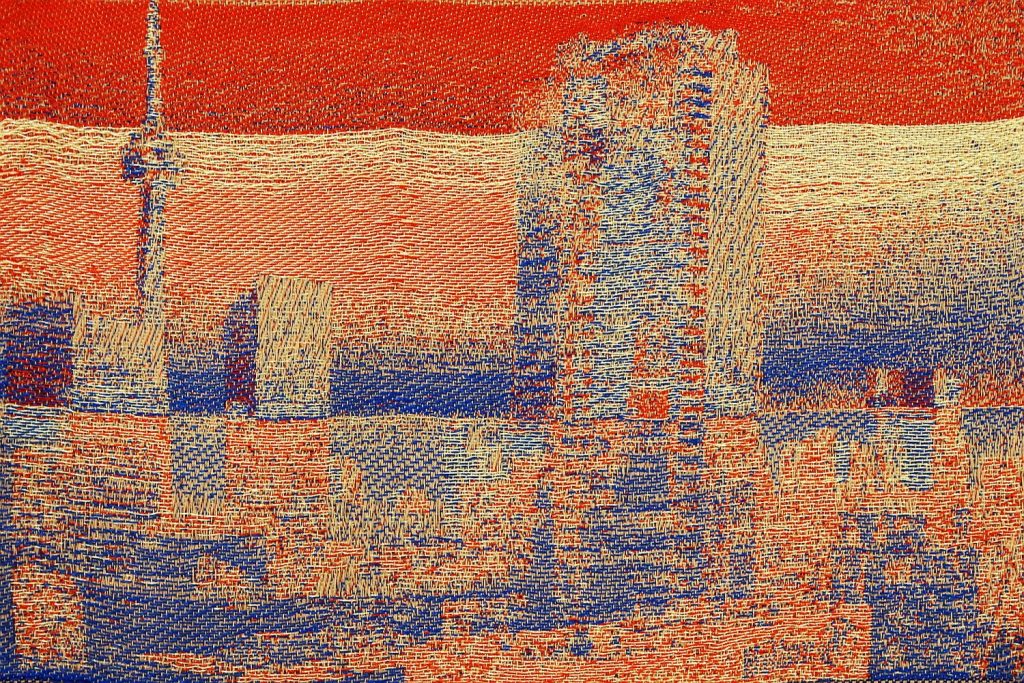 More photos of my work are listed in the other Textile Art categories.
Copyright © 2019  Paulette Marie Sauvé
Version français: