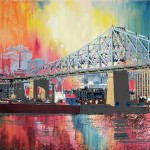 Brilliant cityscape
RIVER CITY SUNRISE is a colorful study in architecture.
Create an impact with the latest in Fine Art, and enhance your decor with these large format cityscapes and abstract landscapes.
Thus you will add the finishing touch for interior design.
This artwork is also available in Limited Edition Archival Ink on Aluminum,
and on 100% Museum quality Rag Paper.
Consequently this work is ideal for hotel lobbies and corporate reception areas.
"RIVER CITY SUNRISE", by Paulette-Marie Sauvé
36 inches H X 36 inches W
Mixed media on Aluminum
$2,600.00
Contact:
elaine@elainefleckgallery.com