Gobelins Tapestry Weaving by Paulette Marie Sauvé :
Many of my tapestries are created with the technique of the Manufacture des Gobelins in Paris, France.  The image seen here shows a 16th century loom from an engraving by Diderot.  /Plusieurs de mes tapisseries que l'on peut voir plus bas sont réalisées avec la technique des "Gobelins", de la manière de celle qu'on employait au 16e siècle.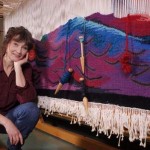 In this photo, Paulette is in front of her Gobelins style "high warp" loom. / Paulette devant son métier à tapisserie haute-lice du style Les Gobelins.
The artist weaves geometric shapes that are sculpted as they are woven on the loom. /   L'artiste crée des tapisseries dont les formes sont parfois sculptés directement sur le métier haute-lice.